WindUp, WindDown - NYC 2019
Between the watch fairs, events, and our releases, October is usually a busy month for us, and this year has been no exception. For watch brands from all over the world, the entire year tends to culminate to the NYC WindUp Watch Fair. The annual event is usually the highlight of the year and often facilitates new releases from brands.
This was our first year showcasing at WindUp NYC. We participated at WindUp SF earlier in the year and had such a great time that we had to come back to showcase in New York. Last year, we attended the NYC show as guests, and had a chance to meet the brands owners whom we have looked up to for years, so it is extremely gratifying to now be showcasing beside them.
The City
New York is always a blast. Last year, we had a bit more time to roam the city and hang out with old friends, but with Duality assembly right around the corner and the Sector launch almost primed and ready to go, we couldn't spare any extra time this trip. That being said, Chelsea is in an amazing part of the city - a neighborhood that I would recommend anyone who visits New York to go to. I got everything I needed in the area to scratch my New York itch: bagels, coffee, pizza, and of course, beer.
The People
There were plenty of friends we met over the past couple of years in New York that we reconnected with, as well as a good number of new faces that we've had online correspondence with. The people are always the highlight of our trips, and over the course of a few events outside of WindUp, as well as WindUp itself, we got to hang with plenty of amazing people.
The Thursday night we arrived, we met up with what we'll call the "Denver Crew," which consisted of a good mix Instagram mainstays as well as industry veterans. We had dinner at a Chinese noodle restaurant ($18 bowls of noodles and $3 lamb skewers - that's NYC in a nutshell), then proceeded to meet up with Steve (from Raven Watches) and his group for drinks at a rooftop bar - the bar was an amazing spot for photography, and luckily, there were no shortage of extremely talented photographers in the group.
Jerry from Dryden Watches, a photographer by trade, had his gear with him and he gave me a crash course in light-painting in photography. This is a work in progress:
After day one of WindUp, there was a cocktail reception, hosted by Watches of Switzerland. Free flow beer, wine, and champagne? Don't mind if I do.
Immediately following the reception, we walked south to one of my personal childhood restaurants, which also happened to be one of Anthony Bourdain's favorites: Hop Kee. We brought part of the Denver Crew, the guys from Raven, Dryden, Astor & Banks, and of course Team Nodus. The group was so big, even for a Chinese restaurant, that we had to split into two groups. Steve ate twice, once at each table.
Saturday morning, we hosted a breakfast with Mk II, Collins, and Astor & Banks. We invited a group of around 30 enthusiasts and friends of the brands to join us for a pre-show breakfast and coffee, where we showed off some of our watches. After the brunch, we made our way over to Chelsea Market to start what would be the busiest day of WindUp.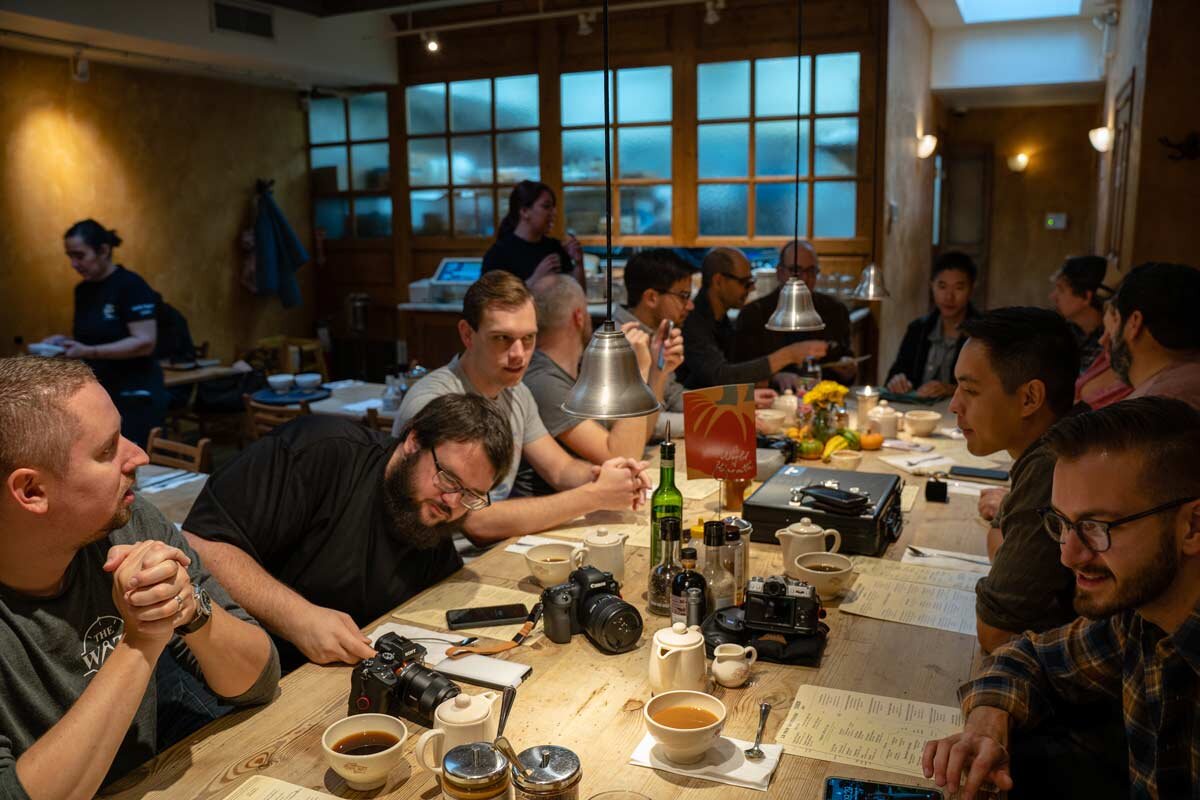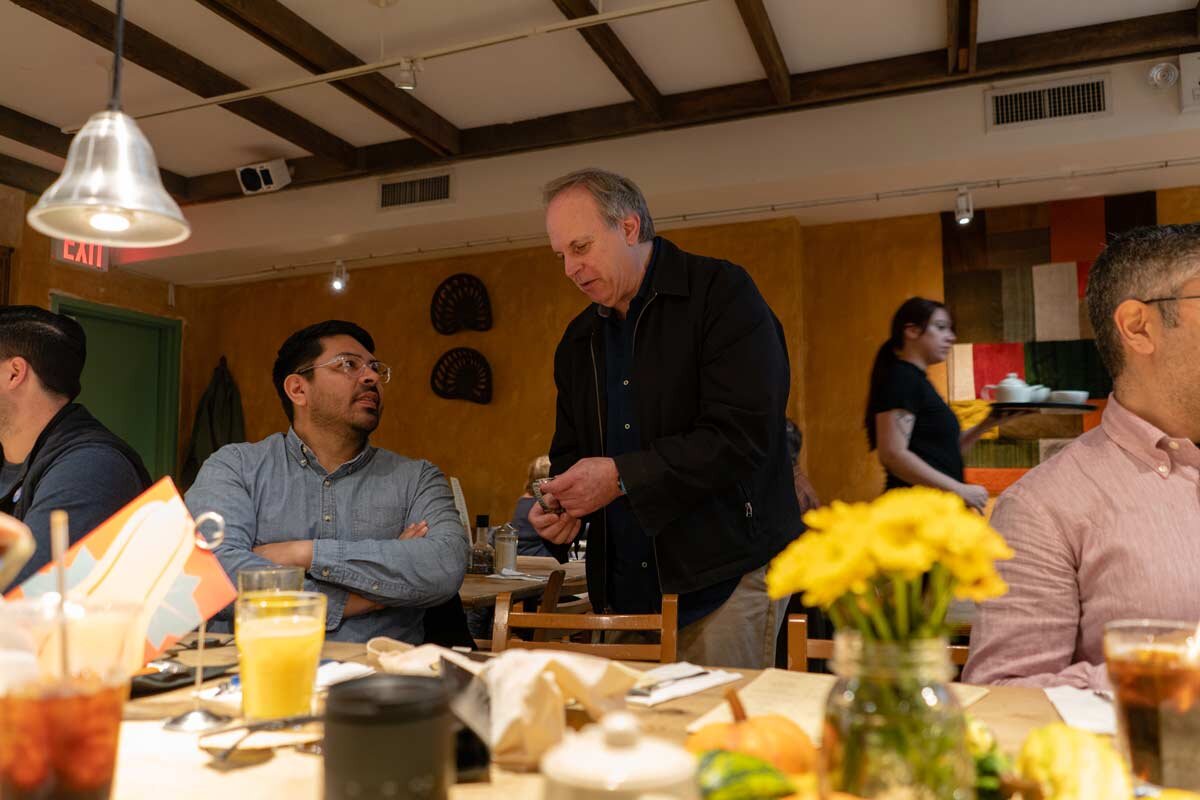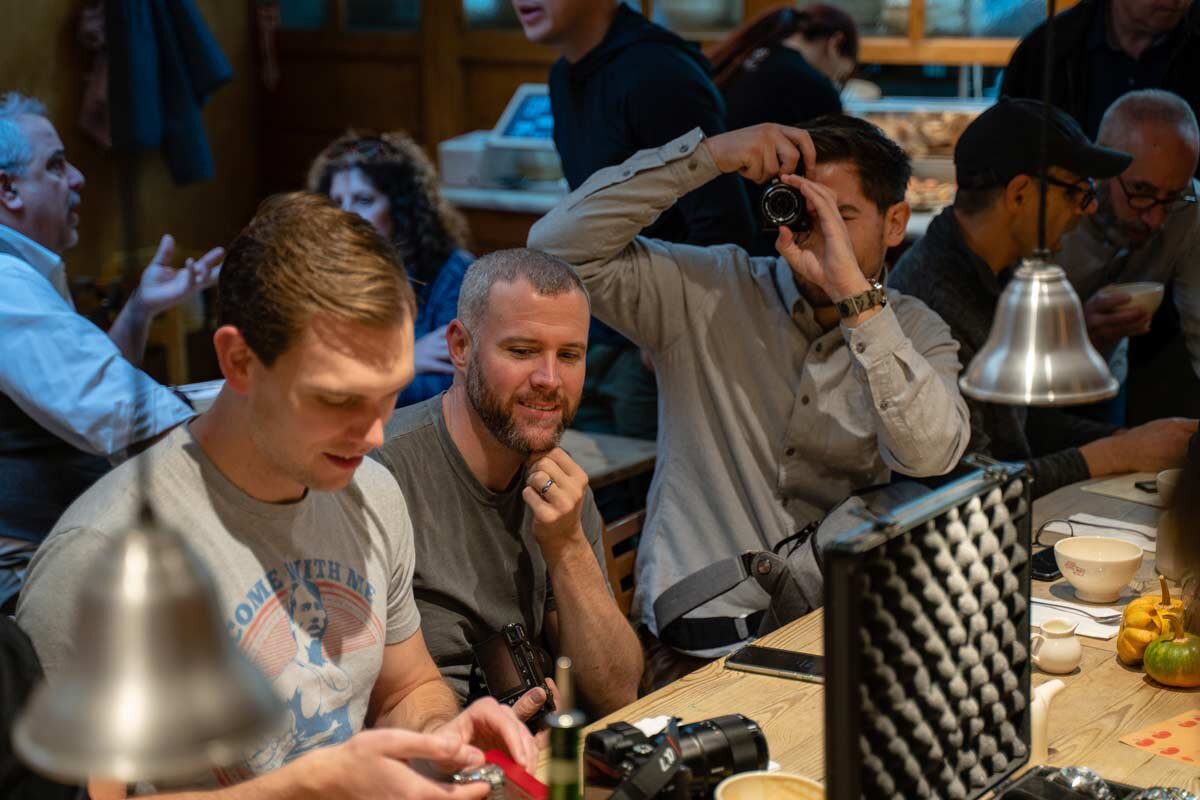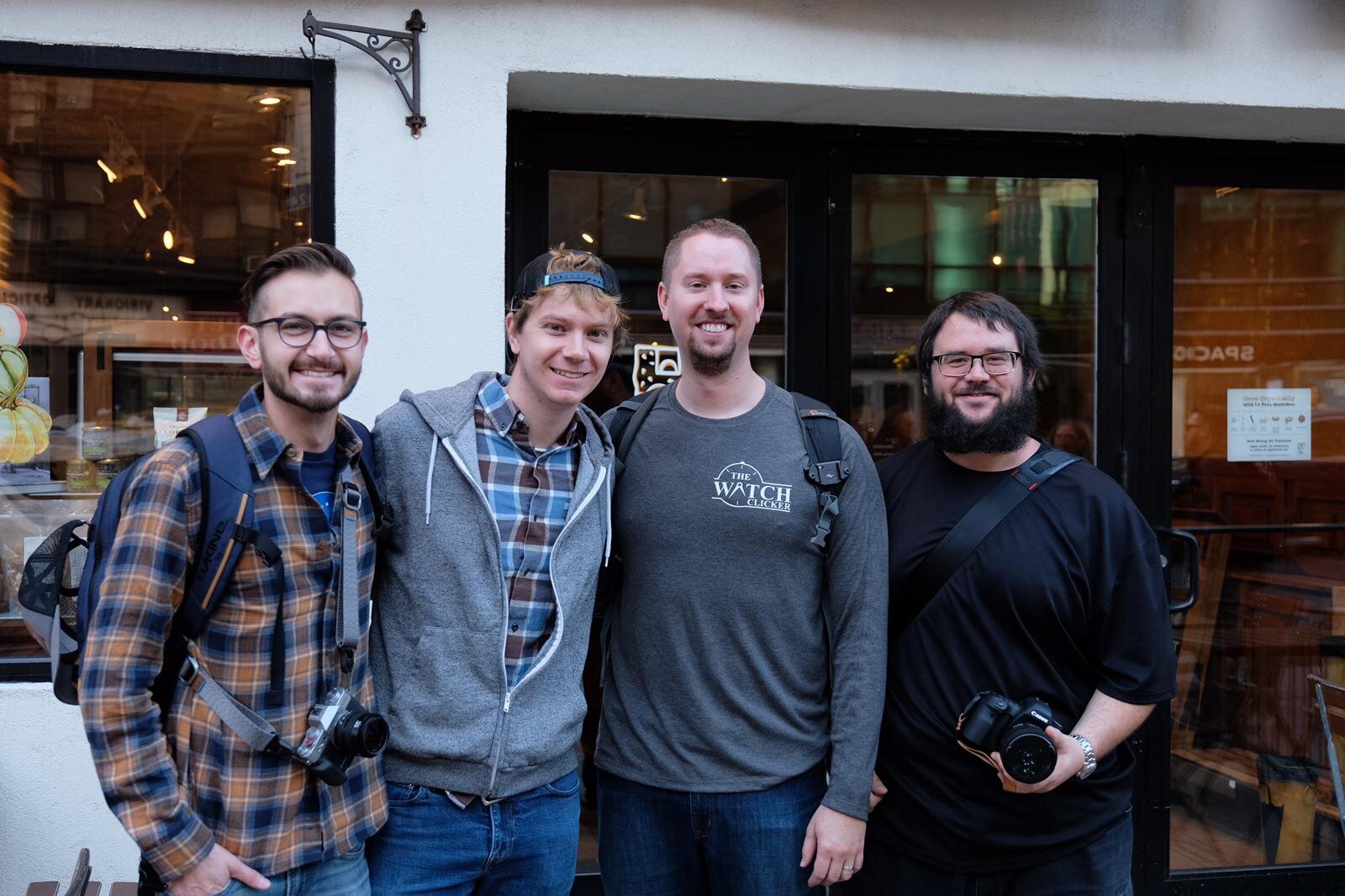 Saturday night was yet another one for the books. Immediately after the show finished, we went over to K-town for our annual KBBQ dinner. This year, we had the folks from Raven, Dryden, Collins, Oak & Oscar, as well as a bunch of friends and enthusiasts in attendance.
The last day was a bit less hectic than Saturday's crowd. The attendance was slightly stifled by the rain, but there was still a slow and steady flow of attendees throughout the day. We ended our time in New York by following our end-of-trip tradition: a quiet ramen dinner, this time with our good friend from Canada, the one who accompanied us on our Nodus Tour this past summer, @furrywristabroad.
WindUp is always one of the highlights of the year - for us and for many other brands and enthusiasts. This year was no different. The show was such a blast, talking watches with enthusiasts, introducing our brand to many new faces, and of course, reconnecting with old friends.
Many of the brands that showcased this year were staples of the event - Mk II, Farer, Oak & Oscar - but there were a few brands that either showcased for the first time or we haven't met before.
The guys over at Vaer were awesome, and turns out they are also a Los Angeles-based brand! The watches were fantastic, with tons of options and a wide price range. John from Bespoke Watch Projects was also a great guy, and the handmade dials on his watches were something else. He is also based in California, in the Bay Area.
This was also the first year larger brands such as Hamilton, Christopher Ward, and Zodiac showcased. It was a huge step up for the Worn & Wound team as well as the event itself. For a full brand list, head over to the WindUp website.
Throughout the event, I spent a good amount of time on Instagram, showcasing many of the other brands that were in attendance. We know that many people from all over the world would love to attend the show, but recognize that New York is not the easiest place to get to. So we did what we could to bring the show to you, by featuring a daily montage of wrist-rolls from other brands. You can find that archived on our Instagram highlights.
But without further ado, these were my personal standout favorites from the show:
Standouts
It is tough to narrow down our favorites from the show, simply because there was just so much great work going on. But if I had to pick where I put my money, this is where it would go:
Raven Solitude
The Solitude is very loosely based on the Seiko Ladies Diver, reference 2205-0769, a pretty obscure watch, likely due to its 33mm size, which even for its time was considered small. Steve, lead designer and owner of Raven Watches, brought the watch into the 21st century, redesigning it as it would be if it were done today. As expected of Raven quality, the case work is detailed, with sharp and accurate transitions and comfortable wearability. It is much smaller than many of Raven's other offerings, and also fills a price point that is lower than the brand's other offerings - but don't misconstrue that with lower quality, because this watch can stand next to any of Raven's other models; and I intend on doing just that when I purchase one in the next few months, as my Trekker is in need of some more Raven company.
Mk II Cruxible Hellion
Earlier this year, I picked up the first generation Cruxible - and better yet, I got it hand-delivered by the man behind the brand himself, Bill Yao. In some ways, he is also the one behind Nodus, as he served as a trailblazer for the industry, and an inspiration for me and Cullen. The Cruxible Hellion is the evolution of the Cruxible line, featuring a different (and some might say "more refined") dial and hands, as well as perhaps its standout feature: the fully polished case. In typical Mk II fashion, the Hellion draws inspiration from military history, this time, based off an old experimental weapons system. It proved to be ineffective, but the name stuck around to describe the pilots that ran the program. You can read more here. I was most excited to see this watch in person because the Cruxible has been one of my most worn watches this year, and is still one of my favorites. The fully polished case may not be for those looking for a tool watch, but trust me - this watch can and should be worn and beat up.
Farer Moritz
One of my gripes in a lot of chronograph designs is numerals or indices that are cut off by subdials. Those close to me know how much it irks me to see that done, and very rarely do chronographs speak to me because of this. The Moritz, however, executes the subdial integration in an elegant and unique way, with the 6 numeral overhanging into the hour counter subdial. The 12 and 6 markers are lume blocks, made out of solid SuperLuminova. Because of the height of the 6, it would be impossible for the hand of the hour counter to clear it, so Farer CNC'd the underside of the 6 to just the right height so that the hand passed under it. This is the most creatively and elegantly designed chronograph I've seen in a long time, if not ever.
Lorier Gemini
Last but not least, the Lorier Gemini took me by surprise. Obviously, chronographs seemed to have been a trend this year, but the Gemini is one that would really resonate with vintage lovers. The bezel action was some of the best I've felt at any price point, and the clean and visible dial is typical of Lorier design language. The plexiglass crystal adds just the right amount of warmth and vintage feel that Lorier has done so well since the beginning. The reason for my surprise in this watch is because photos do not do it justice, at all. The depth of the dials are wonderfully done, and is only accentuated by the shape and material of the crystal. Lorier nailed the colors, textures, and just about everything else on this watch.
——-
The best part of our job is always the people in the community. WindUp is a great event to get our brand in front of new people, but as an online-only business, getting to know the enthusiasts as more than just a number on an invoice or a handle on Instagram is what makes this whole journey that much more fun. WindUp is always a great chance to meet new people and hang out with old friends. Whether it is in New York, San Francisco, or anywhere in between, WindUp serves as a platform for our brands - not just to market and get in front of people - but to form important memories and bonds with each other. We share this common passion, and it is hard for us, even as business owners, to see events like this as an arena for competition. These are watches, and they bring people together more than they separate us. Seeing the enthusiasm at WindUp is a good reminder of why we do what we do and makes me wish that we could spend less time working on watches and more time meeting the people who love this hobby - but alas, Dualities need to get to their new homes. And besides, the next one is just around the corner.
-----
Wesley Kwok is the co-founder/operator at Nodus Watches. He is an entrepreneur by day, watch-geek by night, and a musician in the spaces in between. When he is not working or playing guitar, he can be found seeking out the best craft beer in California, perfecting his brioche bun recipe, or keeping up to date on the latest tech trends.
Follow him on Instagram @wes_kwok or Nodus Watches @noduswatches